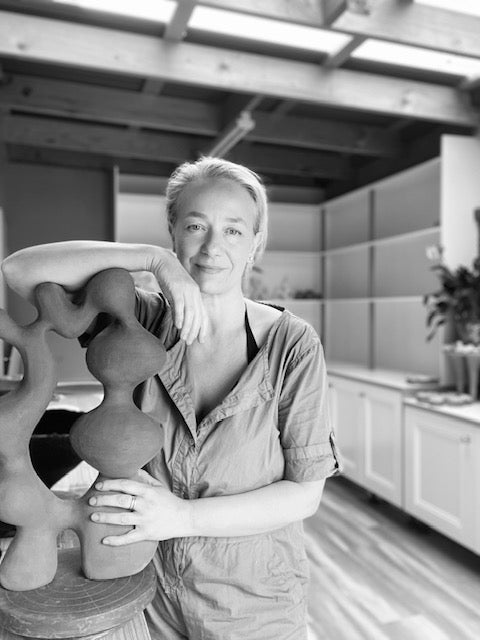 Carmelina Greco
2022 was an exceptional year for the business, after being featuring in magazines such as Vogue Turkey and Home and Garden. Carms Clay was also showcased in Becker Minty Sydney and 1000 Vases Paris exhibitions in February 2023.

Carmelina Greco is a Melbourne based, self-taught Ceramic Artist.
Growing up, art was always around Carmelina. She spent a lot of time creating unique pieces for her friends and family but with a growing family herself, decided to take a break and put her family first. Many years later, during the Australian lockdowns, Carmelina turned back to her passion and Carms Clay was born.

Carmelina draws inspiration from her daily life, including the beautiful beaches and mountains around her home. Her abstract work are sensual, playful and organic, recalling the natural forms of the Australian landscape. Carmelina employs coiling and other hand-building techniques to create her works, using Australian stoneware clays. She leaves her work unglazed, celebrating the colours and textures of the fired clay.
Each piece made by Carmelina is one of a kind and unique. She describes her pieces as quirky as each piece is different and special in its own perfect way.

If you love a certain piece shown on the website that has sold, it can be commissioned! Please note that they will never look identical as they are all one off pieces